Cyborg Kuro-chan (Super Cyborg Nero in South Korea) was a anime that originally aired from 1999-2001. The series is about a cat who must look after his elderly owners but has been transformed into a cyborg by a scientist.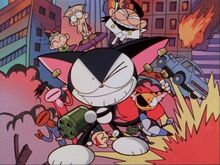 A dub of the series in Korean was made in the mid 2000s after South Korea lifted the ban on Japanese imports. The dub is very hard to find online, episode 15 and the opening are the only existing footage of the dub
The opening in Korean
https://www.youtube.com/watch?v=2BIdDruXW5Y
Episode 15 in Korean
Ad blocker interference detected!
Wikia is a free-to-use site that makes money from advertising. We have a modified experience for viewers using ad blockers

Wikia is not accessible if you've made further modifications. Remove the custom ad blocker rule(s) and the page will load as expected.