The pilot of the 2002 animated program Cyberchase aired in March 2000. It was called "The Poddelville Caper" and featured very different animation than the final show, and didn't have Christopher Lloyd as The Hacker. Another aspect of the pilot is the absence of Digit.
An alternate version of it was released as part of the 2002 series. The original seems to be lost.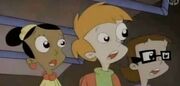 Ad blocker interference detected!
Wikia is a free-to-use site that makes money from advertising. We have a modified experience for viewers using ad blockers

Wikia is not accessible if you've made further modifications. Remove the custom ad blocker rule(s) and the page will load as expected.