Before Curious George premiered in September 2006, there was a test pilot of Curious George that was screened to preschoolers in July 12, 2005. The test pilot was never seen; as it was only saw by preschoolers. It is never seen at all. But, some pictures and screencaps had an early version of Zeroes to Donuts, and the hugging image of the logo.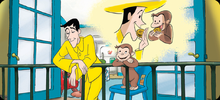 Ad blocker interference detected!
Wikia is a free-to-use site that makes money from advertising. We have a modified experience for viewers using ad blockers

Wikia is not accessible if you've made further modifications. Remove the custom ad blocker rule(s) and the page will load as expected.