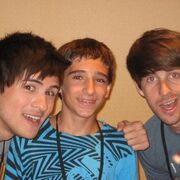 Channel Overview and Lost Videos
Culter35 is a youtube channel featuring 19 year old Anthony Mennella and his skits. He has over 17,000 subscribers and 3 million views on his channel.  From early 2008 - 2009 he was known for being a Guitar Hero player and uploaded videos of his gameplay videos of him playing Guitar Hero videos. Besides Guitar Hero, He had alot of skits when he was younger that were parodies of Smosh and other Youtubers. There are some found videos of his that were on the playlist of his first channel Clank35 and there are some old videos on his channel. But the only old videos that are public are "Interactive Stranded Game" "Youtube 789 Gathering" "The Sanyo Xacti (Ft. ShaneDawsonTV, ShayCarl, and LisaNova)" & "Anthony Goes Shopping"
What happended to the lost videos???

To this day like some other popular youtubers, Anthony either privated, deleted or unlisted his older videos. Though some are on his Clank35 channel.                                 
Lost Videos
None of the videos Anthony had uploaded from late 2008 - early 2009 are viewable today. There was a series named "Pablo Sanchez" which featured Pablo & Fabrizo. There were also videos like "The Start Of Frank Scattora & CC Yaz" "iPod N' Cold Katy Perry" "Oreo Commercial" some bloopers could be seen on Vimeo.
Other info
Anthony has other channels that had his old videos. "CulterBloopers" "CulterProductions" "cluter35" "cpclank35" "clank35" "CulterVids" "CulterUnboxing" & "TheAbnormal35" but some of them don't have his older videos. It is unknown at this point that Anthony would release his old videos on public or not. 
Ad blocker interference detected!
Wikia is a free-to-use site that makes money from advertising. We have a modified experience for viewers using ad blockers

Wikia is not accessible if you've made further modifications. Remove the custom ad blocker rule(s) and the page will load as expected.