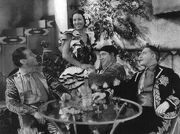 Cuckoorancho was a 1938 short subject released by Columbia Pictures, it was Joe Besser's first appearance in a Columbia Short
.
Plot
Joe Besser is featured in this short as a wanderer who is mistaken as a millionaire by an owner of a hacienda.
Information
The film was filmed in New York, USA for a duration of 5 days from January 27, 1938 and wrapped up on February 1, 1938 and was released 1 month later on March 25, 1938. The production title was Rancho-Bango. It ran for 16 1/2 minutes. No prints have been found of the short. Only a single publicity still has surfaced and no collectors have claimed to state that they have a copy of the short. It is not even included on The Three Stooges Rare Treasures from the Columbia Vault DVD set.
Ad blocker interference detected!
Wikia is a free-to-use site that makes money from advertising. We have a modified experience for viewers using ad blockers

Wikia is not accessible if you've made further modifications. Remove the custom ad blocker rule(s) and the page will load as expected.