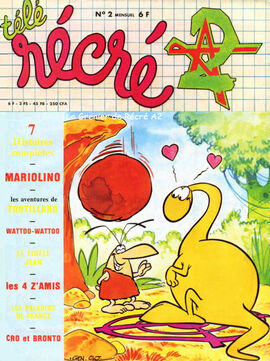 Cro et Bronto is a French animated series created by Bruno Bianchi (1955-2011). It was DiC's first cartoon before their successful Inspector Gadget in 1983 and moving to the States in 1987. It disappeared off French television screens and it's claimed to be hard to find today along with Archibald le Magichien (Archibald the Magic Dog) in which was Jean Chalopin and Bruno Bianchi's the first major collaboration. A few episodes have surfaced online, only one is on YouTube. It was also mentioned in the history-of-DiC book "Les séries de notre enfance" about an episode in which is on YouTube and OSIBO Archives. The OSIBO one omitted the intro and credits. Let's just hope for the best that more episodes of Cro et Bronto and episodes of Archibald le Magichien surface online.
Series Plot
It's about a caveman called Cro who is trying to hunt a brontosaurus in which his plans backfire. The series is similar to Wile E Coyote and Road Runner except with a caveman and a brontosaurus. Bronto somehow loves Cro in which in a screenshot, Cro is shown scared by Bronto's love for him. Cro et Bronto ran for 45 episodes of 1 minute and 20 seconds.
Ad blocker interference detected!
Wikia is a free-to-use site that makes money from advertising. We have a modified experience for viewers using ad blockers

Wikia is not accessible if you've made further modifications. Remove the custom ad blocker rule(s) and the page will load as expected.