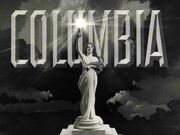 Columbia Pictures throughout the 1930's to the Late 1950's put out a handful of Short Subject Presentatio
ns.Some of them include The Three Stooges and others which are very rare.
Information
Various other actors had their own Short Subjects. Some of these actors are Gus Schilling,Richard Lane, El Brendel, Andy Clyde, Shemp Howard, Joe Besser, Joe DeRita.etc. In 2012 the Shemp Howard, Joe Besser and Joe DeRita were released on DVD as part of The Three Stooges Ultimate Collection. Some of the shorts were posted by 2reelers and some of the are lost or very rare and hard to find.
Title Card Galleries
Here are some title cards from these rare or lost Short Subjects.
Credit to 2reelers
Ad blocker interference detected!
Wikia is a free-to-use site that makes money from advertising. We have a modified experience for viewers using ad blockers

Wikia is not accessible if you've made further modifications. Remove the custom ad blocker rule(s) and the page will load as expected.