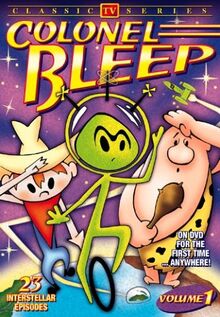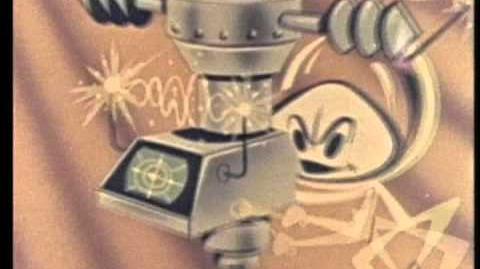 Colonel Bleep
was an animated series that ran from 1957 to 1960. It was the first animated television series to be produced in color. It had 104 episodes. Unfortunately only about 35 of these episodes still exist. In the early 1970s, when the original prints were being put onto a van, it was stolen by car thieves and the contents have never turned up ever since.
The surviving episodes have long since been released on VHS and DVD. They are also in the public domain.
List of Surviving Episodes
Building an Island Base
Col. Bleep's Arrival on Earth
Danger Below
Dangerous Holiday
Exposed
Fire Water
Knight of Death
Man Hunt on the Moon
Nightmare
Satellite of Death
Scratch and His Feathered Friend
Scratch and the Sea Serpent
Shadows of Suspicion
Squeak and the Terrible Termite
Test of Friendship
The Bat and the Bottle
The Earth from Outer Space
The Evil Eye
The Firebomb
The Ghastly Ghost
The Greedy Gorilla
The Hypnotic Helmets
The Ingenious Invention
The Invisible Gorilla
The Killer Whale
The Lunar Luger
The Pirate Plot
The Prehistoric Present
The Runaway Rocket
The Treacherous Pirate
The Treacherous Trio
The Uncharted Island
The Wicked Web
Tunnel in Space
War in Robotland
List of Known Lost Episodes
A Windy Knight
Ball of Fire
Ice Demons Attack
Space Station X-1
The Falling Star
The Magnetic Menace
The Martian Mice
The Relentless Rain
The Rusty Robots
External links
Ad blocker interference detected!
Wikia is a free-to-use site that makes money from advertising. We have a modified experience for viewers using ad blockers

Wikia is not accessible if you've made further modifications. Remove the custom ad blocker rule(s) and the page will load as expected.