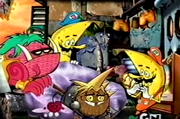 For those who don't know, Coconut Fred's Fruit Salad Island (usually referred to Coconut Fred) was an animated series on Kids WB. It wasn't all that popular, and ran from September 17, 2005 to May 27, 2006. The co-creator uploaded most episodes onto YouTube, but some English dubbed episodes are missing.
Some of the lost episodes are online, but not in high quality.
Episodes found in high quality
NOTE: The ones in bold are found, and the ones not are lost.
Season 1
No News is Good News
Master of Disaster
A Bad Case of the Fruitcups
Fruity Booty
Fruit Canal
Lemon Overboard
Fred Rules!
Monster Island
Nutcase
One Bad Apple
Hocus Pocus Lack of Focus
Amuse-Otel
Bananas for Golf
Fruitball Heroes
A Cold Day on Fruit Salad Island
Five Nuts and a Baby
Banana Cabana
Coconut Freds
Season 2
Captain Nut and the Power Fruits
Monkey Business
Sir Nutalot (Spanish version available)
One Fruit's Trash is Another Fruit's Treasure
Turn on your Nut Light
The Ripley Van Ripened Book of World Records
Frozen in Time
Ad blocker interference detected!
Wikia is a free-to-use site that makes money from advertising. We have a modified experience for viewers using ad blockers

Wikia is not accessible if you've made further modifications. Remove the custom ad blocker rule(s) and the page will load as expected.