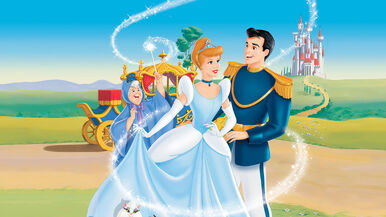 Cinderella Stories was a cancelled spin-off of the 1950 Disney animated movie Cinderella, produced from 1999-2002. Each episode told the tale of the adventures of Cinderella after she got married.  Three episodes, "Aim To Please", "Tall Tail", and "An Uncommon Romance", were released to VHS as "Cinderella II: Dreams Come True". Storyboard art for an unnamed fourth episode about the Royal Entourage festival has been found. It is unknown if any more episodes were produced.
Ad blocker interference detected!
Wikia is a free-to-use site that makes money from advertising. We have a modified experience for viewers using ad blockers

Wikia is not accessible if you've made further modifications. Remove the custom ad blocker rule(s) and the page will load as expected.