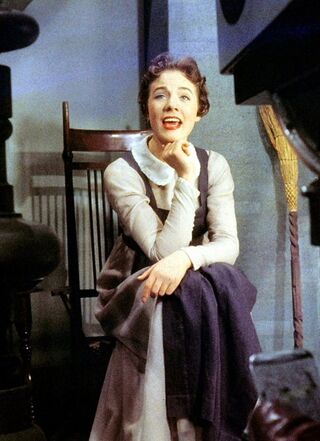 On March 31, 1957, CBS televised a live musical adaptation of the fairy tale
Cinderella
. It boasted songs by legendary Broadway songwriters Rodgers and Hammerstein, the latter of whom also wrote the script. Julie Andrews starred in the title role, along with such actors as Jon Cypher as Prince Christopher, Edie Adams as the Fairy Godmother, Ilka Chase as the stepmother, and Howard Lindsay and Dorothy Stickney as King Maximillian and Queen Constantina. The special set a record as the most-watched TV program up to that point. Despite this success, it never played on network television again.
Viewers on the East Coast saw Cinderella live in color, while those in the West saw a black and white videotape. However, the only known surviving copies include a black and white kinescope, and a tape of a dress rehearsal. Even though CBS did not air the original special again, audio of the songs remained available on an LP soundtrack.  Two made-for-TV remakes of Cinderella both proved very successful. The 1965 version survives today on full-color videotape, while the 1997 production was filmed for prosperity's sake. There have also been several stage productions of Rodgers and Hammerstein's Cinderella, including one that premiered on Broadway in 2013.
In 2004, the 1957 Cinderella finally aired on TV again, as an episode of the PBS program Great Performances. DVDs of the kinescope became available soon after. One of the bonus features is a photo gallery containing some color photos. Unfortunately, color copies of the production itself remain unavailable.
Ad blocker interference detected!
Wikia is a free-to-use site that makes money from advertising. We have a modified experience for viewers using ad blockers

Wikia is not accessible if you've made further modifications. Remove the custom ad blocker rule(s) and the page will load as expected.