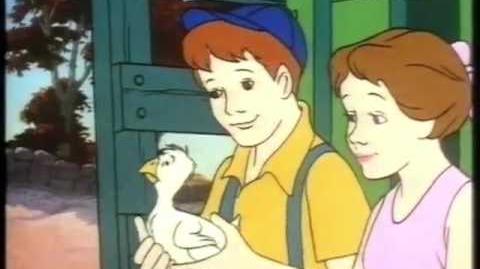 In the 1973 animated version of the E.B. White novel Charlotte's Web, there is a 'deleted scene that was originally used in the film, but cut from surviving prints.
This is shown right after we see Avery and Lurvy spot Jeffery trying to get into Wilbur's crate. The truck stops so Avery can put Jeffery on the ground, and the latter tries to catch up with the truck, but to no avail. His mother then proceeds to lead a disheartened Jeffery and his siblings to the pond for a swim.
For unknown reasons, this sequence was removed from subsequent releases on VHS and DVD, and possibly TV broadcasts. However, it was used for international (non-USA) 1980s VHS releases, particularly in Sweden and Germany. The scene, in Swedish, can be viewed above. It is currently unknown if an English-language version of the scene still exists, or if it even appears on UK/Australian VHS releases.