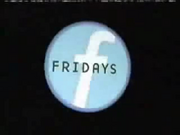 On September 5, 2003, Summer Fridays was replaced with Cartoon Network's Fridays. The block had no hosting segments, unlike the "original" CCF. It aired simply reruns of 15 Cartoon Cartoons (with new episodes of
Dexter
and
The PPGs
) and non-Cartoon Cartoons until Tommy and Nzinga comes on 5 October with live-action format of CCF. However, no recordings of this short-lived block exist on the Internet, but this eventually went missing.
UPDATE 15.9.2016: Captain B. Zarre has finally found this intro on his YouTube channel!
​UPDATE 18.3.2017:​ Captain B. Zarre has finally found a different intro for TGAOBAM and KND and the KND bumpers on his channel!
Ad blocker interference detected!
Wikia is a free-to-use site that makes money from advertising. We have a modified experience for viewers using ad blockers

Wikia is not accessible if you've made further modifications. Remove the custom ad blocker rule(s) and the page will load as expected.