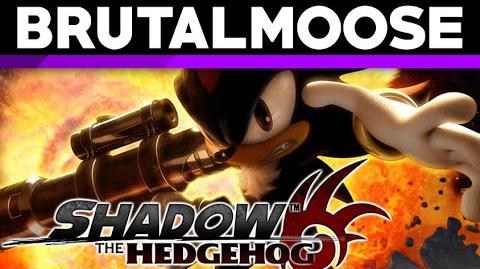 Ian Macleod, better known as Brutalmoose, is part of the gaming / youtuber community Hidden Block, and video game reviewer in the same fashion as JonTron and PeanutButterGamer, adding funny editing and opinions in his reviews.
On December 12, 2013, Brutalmoose uploaded his "Shadow The Hedhehog" Review, which originally contained a musical number along with his friend Jeff Fabre (Spacehamster on Youtube) as an ending to the video, but fearing Copyright Issues, he decided to cut it from the final version of the video.
When asked on Facebook about this, Brutalmoose replied with a little bit of info of the original ending, but it's unlikely that he'll release that uncut ending unless it's via PM to somebody in any social media since he probably still has a copy of the uncut / unedited ending of that video.
Ad blocker interference detected!
Wikia is a free-to-use site that makes money from advertising. We have a modified experience for viewers using ad blockers

Wikia is not accessible if you've made further modifications. Remove the custom ad blocker rule(s) and the page will load as expected.