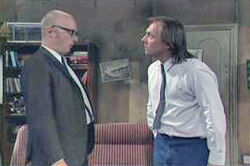 Before Rik Mayall and Ade Edmonson were planning and then dismissing other ideas for TV continuations of Bottom, the very first one they had was the fourth series of Bottom they had written some time between the finale of the third series and around the time Ade Edmonson started saying it was definitely time to stop because of the duo's growing age (a year after their last tour "Weapons Grade Y-Fronts" had ended). A fourth series was announced over the closing credits of the original broadcast of the series three finale and on airings of the show on BBC2 and the scripts were fully written and sent to the BBC before being rejected by, as Rik Mayall puts it, "some lesbian bitch", and because of this, Rik Mayall was extremely furious, stating things like "the BBC had killed my and Ade's baby".
The duo would then continue to have an on-again off-again vent as to whether they would be continuing the show or not, with the situation currently being in very negative status, and it's because of this that it's unknown if we'll see anything of these scripts even if the duo do manage to come out with a new series, perhaps unless these scripts are reused in the future.
Ad blocker interference detected!
Wikia is a free-to-use site that makes money from advertising. We have a modified experience for viewers using ad blockers

Wikia is not accessible if you've made further modifications. Remove the custom ad blocker rule(s) and the page will load as expected.