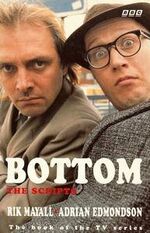 Bottom, Rik Mayall and Ade Edmonson's famous TV series was always scripted and shot at the length of 35 minutes, and then cut down to 30 minutes in post-production. Some, but not all of the cut footage was put into Bottom "Fluff" and into the cuts of the episodes used for DVD releases, including smaller sections of dialogue that were removed for timing reasons, and the original scripts were put into the several script books released.
However, there are still several original full cuts of Bottom episodes or the remaining footage from said full cuts that are left unaccounted for. Publicly released fully uncut episodes include "Holy", the Christmas special.
Ad blocker interference detected!
Wikia is a free-to-use site that makes money from advertising. We have a modified experience for viewers using ad blockers

Wikia is not accessible if you've made further modifications. Remove the custom ad blocker rule(s) and the page will load as expected.