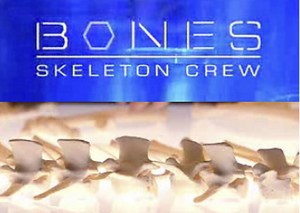 In November 2006, a spin-off webseries of the TV series Bones was produced by Fox and Launched through a partnership with Sprint Nextel in conjunction with MasterCard's Sponsorship. The spin-off, called Bones: Skeleton Crew, consisted of 26 two-minutes episodes that were only available to Sprint TV subscribers before they were released on the official series website.
The episodes did not feature the show's main cast; its plot revolved around three Jeffersonian Institute lab technicians who use their skills to solve a mystery.
Ad blocker interference detected!
Wikia is a free-to-use site that makes money from advertising. We have a modified experience for viewers using ad blockers

Wikia is not accessible if you've made further modifications. Remove the custom ad blocker rule(s) and the page will load as expected.