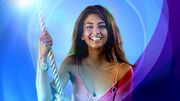 Blue Peter
is a British children's television programme, shown currently live on the CBBC television channel. A significant part of British culture, it first aired in 1958 and is the longest-running children's TV show in the world. Although the show has a nautical title and theme, it is a magazine/entertainment show containing viewer and presenter challenges, as well as the famous arts and crafts "makes".
There is a LOST Blue Peter opening titles is the original and long version from 2004 to 2005. The original version of the titles opened with the ship logo and featured silhouettes of unidentified children also hoisting sails along with the presenters (Konnie, Simon, Matt, Liz and Zöe), as well as the Blue Peter pets. Then at the end, the children are spinning around to form the 2004 Blue Peter ship logo.
Ad blocker interference detected!
Wikia is a free-to-use site that makes money from advertising. We have a modified experience for viewers using ad blockers

Wikia is not accessible if you've made further modifications. Remove the custom ad blocker rule(s) and the page will load as expected.