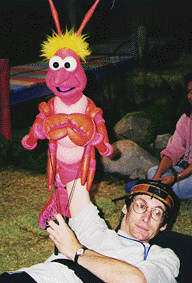 Binyah Binyah! [1] (also known as Binyah's Pond [2] or Binyah Binyah Polliwog [3]) was a short-lived spin-off series of the popular Nick Jr. series Gullah Gullah Island. Somewhere between eight and thirteen episodes were recorded between July and August of 1997, and only five episodes aired on Nick Jr. during its only TV run, February 2-6, 1998. The series was named after the main character of the original show, Binyah Binyah the Polliwog. Nickelodeon decided to pass on the series, and it never aired again.
There was no home media release for Binyah Binyah! due to how briefly it ran, and thus, bootleg copies are impossible to find. All five aired episodes are considered lost. However, all five episodes are rumored to be locked away at Nickelodeon Studios in Florida.
There is a promo for the show on Youtube a few days before it aired in the references.
As of April 2017, the intro to the show was uploaded to YouTube by Bob Runkel. 2 episodes were found. However, 3 are still missing.
In May 2017, clips were uploaded onto YouTube by user CDCB2, including the closing credits.
References
Ad blocker interference detected!
Wikia is a free-to-use site that makes money from advertising. We have a modified experience for viewers using ad blockers

Wikia is not accessible if you've made further modifications. Remove the custom ad blocker rule(s) and the page will load as expected.