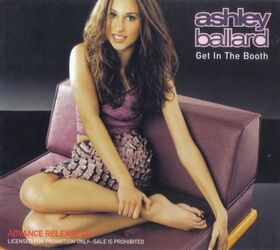 Get in the Booth was pop\R&B singer Ashley Ballard's debut album that was supposed to be released some time in 2001 by Atlantic Records.
One of the songs from the album "Hottie" was released as a single and managed to chart on Billboard's Hot Dance Music\Maxi-Singles Sales & Rhythmic Top 40 charts.
For unknown reasons, the album was shelved, although promotional copies of it were released.
Tracklisting
Hypnotized
Hottie
All I Ever
Forever
Hi Low
Girls Like Me
No Matter What
Second Thoughts
5 x 5
Love Is Real
Why?
It Was You
No More Miss Nice
I'll Be Waiting
Ad blocker interference detected!
Wikia is a free-to-use site that makes money from advertising. We have a modified experience for viewers using ad blockers

Wikia is not accessible if you've made further modifications. Remove the custom ad blocker rule(s) and the page will load as expected.