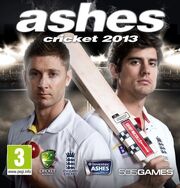 Ashes Cricket 2013 was a cricket video game developed by 505 Games. The game was said to be unfit for release, when it appeared on Steam in November 2013. Several people criticised its numerous bugs, and were overall unsatisfied with the state of the game. Following backlash, 505 Games pulled the game from Steam. The game was only "officially" available for 4 days, thus the game can no longer be legitimately obtained. This led to the PSVita, Wii, PS3, and 3DS versions and the retail release being cancelled. The game is still available on several torrenting sites, but the console ports remain lost. The game's Facebook page has since been deleted, and the Twitter feed has slipped into inactivity.
Ad blocker interference detected!
Wikia is a free-to-use site that makes money from advertising. We have a modified experience for viewers using ad blockers

Wikia is not accessible if you've made further modifications. Remove the custom ad blocker rule(s) and the page will load as expected.