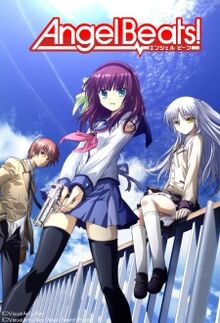 Angel Beats!
is an anime that was broadcasted on Japanese TV from April 3, 2010 to June 26, 2010.
While the anime received much critical acclaim upon its original release, there was a small group of people complaining at the end the show seemed rushed - this could possibly be because Angel Beats! was planned as a two-cour (26 episode) series, but was cut down to 13 episodes at the last minute.
No plans or storyboards from these unaired and possibly unfinished episodes have been released to this day.
It is possible that two of these episodes were used as the series' specials that were released on DVD in 2010 and 2015 respectively, but this is unconfirmed.
Ad blocker interference detected!
Wikia is a free-to-use site that makes money from advertising. We have a modified experience for viewers using ad blockers

Wikia is not accessible if you've made further modifications. Remove the custom ad blocker rule(s) and the page will load as expected.