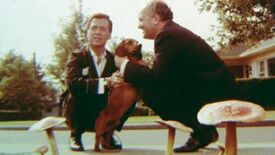 Amanita Pestilens is a 1963 Canadian psychological horror film directed by René Bonnière and starring Jacques Labrecque and Huguette Oligny. The plot concerns a Montreal resident who develops a deadly obsession with a strange, seemingly indestructible fungus that is rapidly destroying his previously perfectly-maintained lawn.
In addition to being Canada's first color film, Amanita Pestilens is also notable for being the first Canadian production to be shot in both French and English while maintaining the same cast, and for featuring an early role for noted Quebecois actress Geneviève Bujold, who plays the protagonist's daughter. Despite these innovations, the film was a commercial failure when first released in 1963. Two years later, it was screened at the Berlin International Film Festival and later broadcast on both West and East German television for a brief period of time. Afterwards, the film fell into obscurity, only occasionally resurfacing. Its last known televised appearance occurred on May 10, 1998, when it was broadcast on The Movie Network, then known as Moviepix.
Although the film is occasionally screened in Canada, there are currently no known video releases of the film in any format. There is no word yet on whether or not such a release will occur in the future.
Ad blocker interference detected!
Wikia is a free-to-use site that makes money from advertising. We have a modified experience for viewers using ad blockers

Wikia is not accessible if you've made further modifications. Remove the custom ad blocker rule(s) and the page will load as expected.