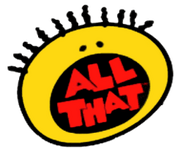 All That 
is a sketch comedy series from 1994 that aired on Nickelodeon. It lasted until 2005 and ran for 178 episodes. It was a smash hit upon release and has gained a large cult following for it's memorable cast members and sketches.
Unfortunately, the entire run has not been released by Nickelodeon on DVD or through digital download and streaming services. Some episodes haven't even been telecasted in years. In addition to all of this, episodes that have been broadcasted since 2011 have been edited for airing on The '90s Are All That due to copyright issues. The program ended up being pulled from the block's schedule on June 1, 2014.
Lost/Partially Lost Episode Guide
Of the 178 episodes that aired, 7 episodes are missing completely and 27 are partially lost. 
<> = Partially missing
Pilot - TLC (FOUND 9/23/14) 
1x03 - Immature <>
1x04 - Craig Mack <>
1x08 - Soul 4 Real <>
1x09 - Changing Faces <>
1x10 - Blackstreet <>
1x12 - Usher <>
1x13 - A Few Good Men <>
1x14 - Aftermath <>
2x01 - Naughty By Nature <>
2x03 - Da Brat <>
2x06 - The Twinz <>
2x07 - Monteco <> 
2x08 - Soul 4 Real <>
2x09 - Subway <>
2x11 - Xscape <>
2x12 - Diana King <>
2x14 - Deborah Cox <>
2x15 - Immature <>
2x16 - Terry Ellis <>
2x17 - Faith Evans <>
2x18 - Silk <>
2x19 - Shai <>
2x20 - IV Example <>
3x03 - Immature ft. Smooth and Kel Mitchell <>
3x06 - Music Special
3x07 - A Tribe Called Quest <>
4x16 - Jermaine Dupri/Da Brat <>
5x01 - Blackstreet ft. Mya <>
6x01 - B*Witched
6x17 - The Best of Josh Server
6x18 - The Best of Lori Beth Denberg
6x19 - Tunes Into TV
6x22 - Dates, Goats and Romance
6x24  - Music and More Highlights and Backstage Pass
Availability
Despite the popularity and abundance of spin-offs, All That is rarely aired anymore. Seasons 2-5 aired from 7/25/11-6/1/14 on The '90s Are All That, but they were all missing the musical performances, the sketches introducing the artists, and the original outros/credits. Most iTunes episodes are also edited, with the exception of 2x02, 2x05 (Which has an audio issue) and 2x13 in the "Retro Essentials" pack [which is not available through streaming services such as Amazon Instant Video].
Luckily, the majority of Seasons 3-5 aired on The N in 2008 and are available unedited online, with the exception of a few episodes that were never featured. Season 6 also aired, but the "Best of" episodes that premiered during 2001 weren't broadcasted. 
Prior to The '90s Are All That, Season 2 hadn't aired for years, which has made complete episodes scarce. Season 1 hasn't been broadcast since 2005, and the pilot has only been telecasted a handful of times during the 1990's. Seasons 6-10 haven't aired since The N's rebranding. It is highly unlikely that unedited episodes will ever air again, unless Nickelodeon decides to get the broadcasting rights back.
Many bootleg DVD's have been sold online, it is unknown if any of the lost episodes are included.
Found Episodes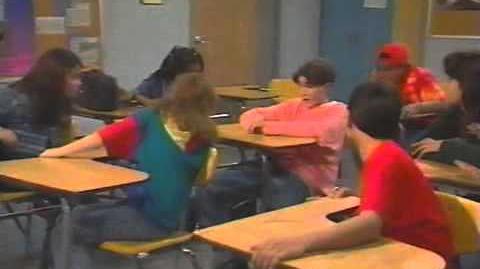 All That's pilot episode is considered by many to be the most sought-after episode of the entire series. As mentioned earlier, it hasn't aired on television in almost two decades. Over the course of about two years, various YouTube users (Skywren Stoneman, NickStudiosFL and SuperCoyBoy) posted clips from the pilot, specifically the "Cool Shoes" sketch, the intro (Which is vastly different from the other ones) and the musical performance by TLC. 
On 9/23/14, the full episode was uploaded to a private tracker, only to be taken down shortly after. One day later, the entire pilot was uploaded to YouTube by user Greenrift. It can be viewed here.
Ad blocker interference detected!
Wikia is a free-to-use site that makes money from advertising. We have a modified experience for viewers using ad blockers

Wikia is not accessible if you've made further modifications. Remove the custom ad blocker rule(s) and the page will load as expected.