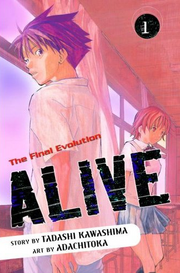 Alive: The Final Evolution
is a manga series that was written by Tadashi Kawashima and illustrated by Adachtoka (The creator of
Noragami
). In Februrary 2010, Kawashima finished writing the series from his hospital bed as the final chapter was being published in the March issue of the Monthly Shōnen Magazine, although he died shortly after. An anime adaptation for the series was planned and to be produced by studio Gonzo and co-produced by Anime International Company, but the adaptation was canceled due to Gonzo being delisted from the Tokyo Stock Exchange. It is unknown to this day if the pilot, or any known storyboard, exists.
Ad blocker interference detected!
Wikia is a free-to-use site that makes money from advertising. We have a modified experience for viewers using ad blockers

Wikia is not accessible if you've made further modifications. Remove the custom ad blocker rule(s) and the page will load as expected.