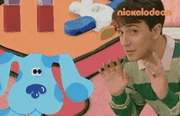 블루스 클루스 is the 2nd Korean version For Blue's Clues, there was another one aired on KBS2 which is also on this Wiki.
Information.
블루스 클루스
which is the title is a Hangulization of
Blue's Clues
. It turns out to be the American version dubbed in Korean. This dub can still be found on the Korean Nickelodeon website, unfortunately the videos are blocked in America and can only be viewed by people within Korea
Trivia
According to Wikipedia "A localization of Nick Jr's Blue's Clues was aired on KBS2" it is unknown which channel this version aired on.
This dub is little less known than the KBS2 overall both dubs aren't very well known.
Although the videos are blocked the thumbnails are still viewable.
Ad blocker interference detected!
Wikia is a free-to-use site that makes money from advertising. We have a modified experience for viewers using ad blockers

Wikia is not accessible if you've made further modifications. Remove the custom ad blocker rule(s) and the page will load as expected.